Hoop Buildings, Canvas Buildings, Tarp Buildings & Clear Span Buildings
We supply and install hoop buildings across the USA
We've erected thousands of hoop buildings across the United States over the past 20+ years. Our team of canvas building estimators, project managers, and self-performing installation crews are highly knowledgeable and offer experience you can trust. Tarp buildings offer many advantages compared to conventional structures.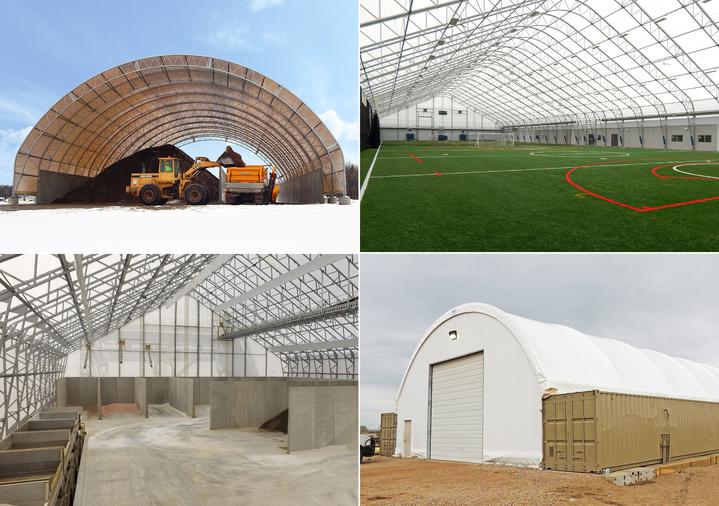 Customizable, Versatile, Clear Span Buildings
Hoop buildings (also known as canvas buildings, tarp buildings, and clear span buildings) can be customized with ventilation, interior layouts, door and end wall options, HVAC, electrical, lighting, conveyer systems, fabric covers and colors, and more. Canvas buildings are ideal for a wide variety of applications in the commercial, industrial, and agribusiness industries, such as:
Sports facilities
Salt and sand storage
Equipment storage
Grain storage
Dry fertilizer storage
Boat slip covers
Aircraft hangars
And much more
Greystone's hoop building team is very professional, courteous, and communicated well from start to finish. I would definitely recommend this company.
Don Howertown, Prince George's County Public Schools, Virginia
Advantages of Greystone's Hoop Building Services
Experience you can trust - Our hoop building team has designed and installed thousands of canvas buildings across the United States.
Greatest value - Our sales and estimating team will listen to your needs and present you with hoop building options for the greatest value in terms of your budget and your operational efficiency.
Highest quality - When designing and constructing a tarp building, or providing a recover, Greystone adheres to the same high standards in terms of quality, service and craftsmanship maintained in all areas of our business.
Engineering - Greystone ensures your clear span building will meet your local wind, seismic, snow, and unbalanced snow loads.
Our installation crews - Our team of installers are highly skilled and know hoop buildings inside and out.
Our ability to travel - We can mobilize our crews to install your canvas building anywhere in the continental U.S.
We demand superior corrosion resistance - For highly corrosive environments like salt or fertilizer storage, you need to be sure your fabric structure's steel frames and welded components receive a hot-dipped galvanized finish after fabrication to ensure a complete zinc coating both inside and out.
We will write public bid specifications - We routinely work with municipalities and DOTs to understand their bulk road salt and sand storage needs and write bid specifications for the best fabric building solution. Our process ensures they receive a high quality, engineered fabric covered building with a layout that allows for the greatest efficiency when snow flies and trucks need to be loaded with salt quickly and safely.
Photo Gallery: Hoop Buildings, Canvas Buildings, Tarp Buildings & Clear Span Buildings
Benefits of a Self-Performing General Contractor
Time
Because we know how to do the work, we are able to manage the schedule more efficiently and ensure work is completed on time.
Money
Our self-perform knowledge provides owners and architects with highly accurate budget information regarding labor and material options that will provide the very best value.
Quality
When you choose Greystone and our self-performing crews, you can be sure the quality of our work will be excellent. Our skilled professionals take great pride in their craft.
Safety
We work hard to ensure the safety of every person on our job sites. Our self-performing crews are laser-focused on safety and enhance the overall safety atmosphere on construction sites.