Nemko USA and Greystone Construction break ground in Round Rock, Texas
February 15, 2023
A ground breaking ceremony marked the start of construction for Nemko USA, Inc. in Round Rock, a suburb located north of Austin, Texas.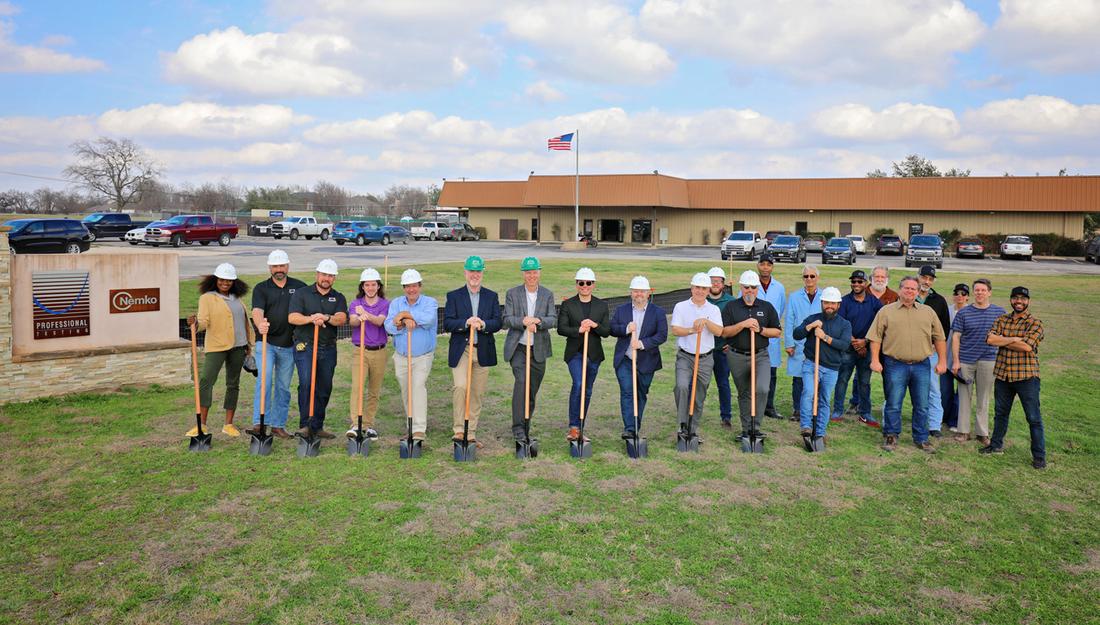 The site is the original home of Professional Testing (EMI), Inc. In 2022, Professional Testing (PTI) entered into an agreement with Nemko Group, a leading global regulatory agency headquartered in Oslo, Norway. PTI was long known as an experienced, accredited testing laboratory providing EMC, wireless, product safety, environmental and reliability testing services and the acquisition by Nemko allowed PTI customers to access to the advantages of Nemko's vast market access and international approval services.
Designed by MOD Architecture, the two-phase project will expand existing office and testing laboratory spaces allowing Nemko to better serve customers in Southern USA with its testing capabilities for commercial, military, aerospace, and high-tech manufacturers.
"The Round Rock facility expansion and upgrades will enhance Nemko PTI's primary laboratory, certification and international approval services while significantly expanding our facilities to assist customers in Texas," says Martin Oien, General Manager of Nemko USA.
The first project phase includes a new testing chamber addition consisting of tilt-wall construction. The second phase will include a remodel of the facility's existing pre-engineered metal building and additional site improvements.
About Nemko
Companies around the world trust Nemko to assess their products, systems, installations and personnel for conformity with relevant standards and regulations. Since 1933, Nemko has ensured that its customers comply with requirements anywhere in the world. Services include international approvals, product and system certifications, cyber assurance services as well as product testing and pre-compliance. Learn more about Nemko at www.nemko.com
About Greystone Construction
Established in 1987, Greystone Construction is a versatile general contractor serving the commercial, industrial, multifamily, and agribusiness industries across the United States. Together, our team has established a reputation for safety, integrity, and construction excellence. Greystone's offices are located in Round Rock, Texas; Shakopee, Minnesota; Bismarck, North Dakota; and Spirit Lake, Iowa.