Minnesota Construction Association names Greystone the General Contractor of the Year
January 27, 2021
We are honored and humbled that our industry peers chose Greystone Construction as "General Contractor of the Year" as part of Minnesota Construction Association's annual awards program. Thank you to the MCA, its members, and the Greystone team for your unwavering commitment to excellence. Congratulations to all the award winners!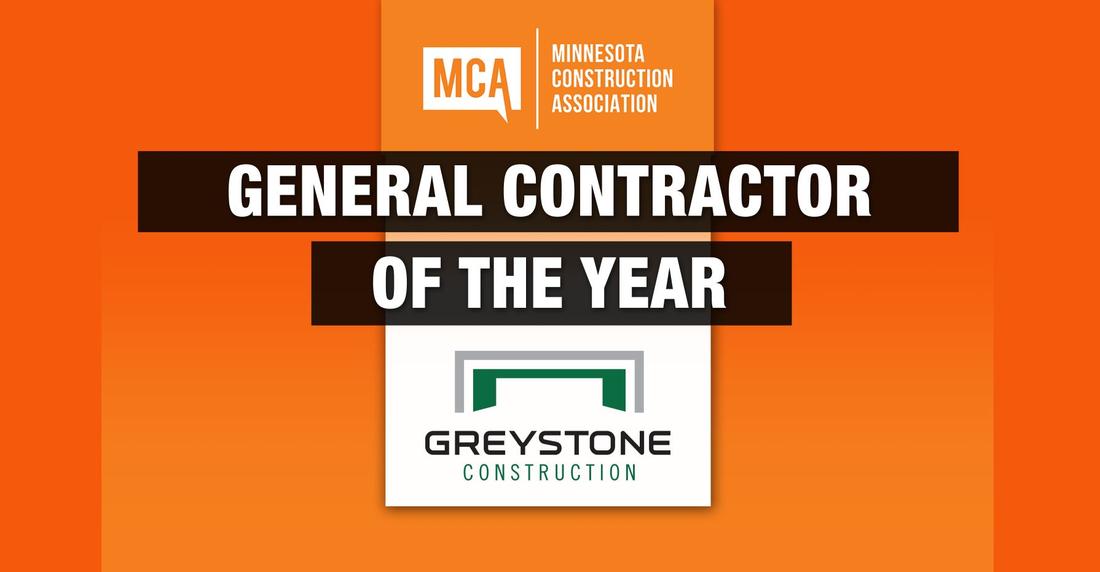 Each year, members vote on the following criteria to select the award winner:
Is proactive. Provides excellent supervision and follow-through on action items.
Excels at scheduling and coordination of material deliveries and subcontractor's work to ensure that work is completed within the schedule constraints of the project.
Promptly pays subcontractors and suppliers for work performed and materials provided.
Exhibits fairness in dispute resolution.
Has an excellent reputation in the construction industry. Consistently exceeds owner's needs and expectations.
Maintains a good relationship with subcontractors by engaging in good business practices during the bidding process
Greystone Construction has been a member of the MCA since 1999.
The Minnesota Construction Association is a non-profit organization that provides networking, business recognition, and education opportunities for construction managers, project managers, general contractors, subcontractors, owners, engineers, architects, attorneys, suppliers, developers, educators and students involved in the construction industry.
More about Greystone Construction
Established in 1987, Greystone Construction is a versatile general contractor serving the commercial, industrial, multifamily, senior housing, and agribusiness industries across the United States. Together, our team has established a reputation for safety, integrity, and construction excellence. Greystone's headquarters are located in Shakopee, Minnesota, with a second office in Bismarck, North Dakota.