Salt storage building completed in Lake County, Ohio
September 16, 2021
The News-Herald recently published an article about our successful partnership with Lake County, Ohio, to build a 4,000-ton salt storage building in six weeks.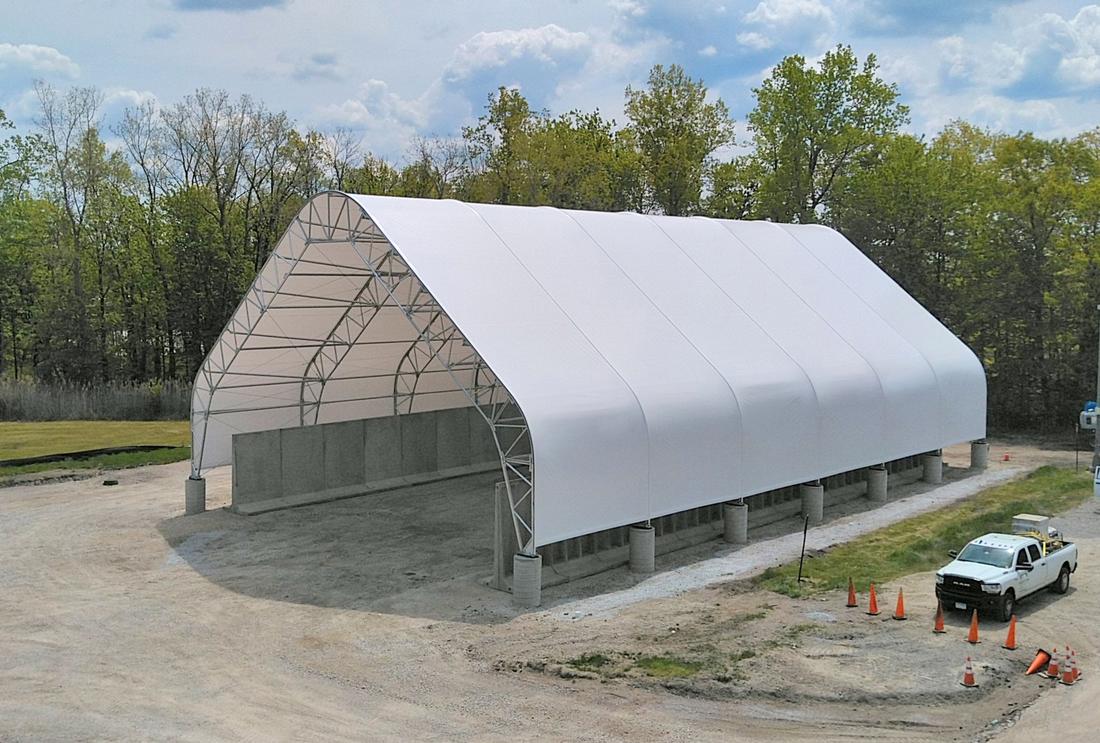 Article by Chad Felton | The News-Herald | Published September 16, 2021
https://www.news-herald.com/2021/09/16/tnh-l-commish-0614/
The old salt storage facility at the main garage on Blackbrook Road in Painesville was falling apart — "badly."
There were other issues, too, in Lake County Engineer Jim Gills' assessment.
"It was small," he said, adding, over the years, the department had significant trouble with large snowfalls, in addition to getting salt delivered, with every community seemingly running out about the same time.
"Everyone was also fighting for trucks," Gills explained. "This past spring, the county experienced, off and on, a lot of problems finding CDL drivers — a problem shared by many — so we decided to build a new facility to alleviate many of these issues."
Challenges, however, quickly arose due to punched holes on the road in "super-bad" soil.
Additional digging and filling with stone to support any type of normal facility was deemed impractical and expensive, Gills noted.
"We found a facility that's much lighter and better and would work for our funny soils without spending $100,000 on nothing before we got started," he said.
The office decided then to design the project in-house and buy a majority of the materials.
"We had a direct purchase through the government list (Sourcewell, a cooperative service purchasing program)," Gills said.
"It's an exciting project and overall we saved $100,000 — not on the foundation, but by doing other aspects ourselves, hiring contractor labor and buying through our bid process for materials."
The contractor completed the piers in roughly three days. A 28-day wait period followed, allowing the concrete to cure.
Eight-foot high moveable jersey barriers, similar to blockades utilized in highway construction zones, were also positioned, spreading over a much larger area than a normal wall.
"The crews came in at that time and began putting up the latticework to support the roof, which took about five days," he said. "That was followed by final paving. The entire project took about six weeks."
The 72-by-120 facility is now finished at a cost of $450,000.
"It's really an impressive facility, and it will hold 4,000 tons of salt, plus, with our existing facilities (in Madison and Leroy Township), we will be able to impound 7,000 tons of salt, which will pretty much last us the full winter," Gills said.
"If a community gets in a little trouble and they can't get salt during one of our major snowstorms, we feel we will be able to bail them out with a truck or two, here and there," he added. "We will keep this (facility) full."
Gills noted the office will also be able to take advantage of additional pricing.
"We bid our salt and there is an overlap," he said. "If the new bids come in higher than the old, we simply fill it up with the old bids and tell the new bids they will have to wait until the end of the season.
"Now and again, the Ohio Department of Transportation does do a summer fill-up and they'll sell us some salt pretty cheap," he added. "And we will be able to take advantage of that. Overall, it will help our department and all of Lake County."