Insights into a successful salt storage project in Lake County, Ohio
January 6, 2022
Lake County, Ohio, engineer James Gills needed to replace an old, deteriorating salt dome. "We had a teepee-shaped structure built in the mid-70s, and it only had a 900-ton road salt storage capacity. Lake County is in the strongest part of Ohio's snowbelt, and we experience significant snowfalls leading to a high demand for salt, so much so that we were having trouble obtaining salt throughout the winter season. We needed to build something new with a much higher salt storage capacity."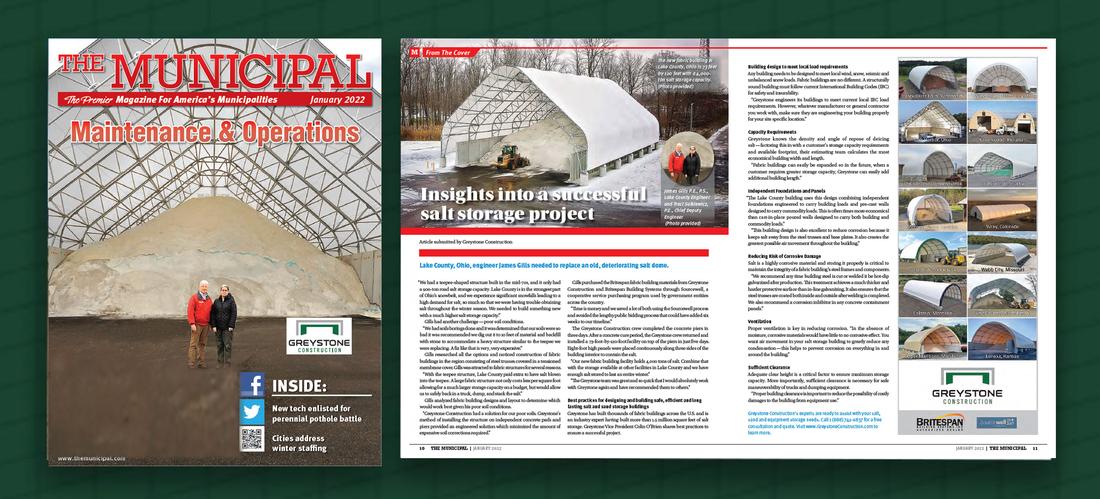 From the January 2022 issue of The Municipal Magazine:
"We had a teepee-shaped structure built in the mid-70s, and it only had a 900-ton road salt storage capacity. Lake County is in the strongest part of Ohio's snowbelt, and we experience significant snowfalls leading to a high demand for salt, so much so that we were having trouble obtaining salt throughout the winter season. We needed to build something new with a much higher salt storage capacity."
Gills had another challenge — poor soil conditions.
"We had soils borings done and it was determined that our soils were so bad it was recommended we dig out 8 to 10 feet of material and backfill with stone to accommodate a heavy structure similar to the teepee we were replacing. A fix like that is very, very expensive." 
Gills researched all the options and noticed construction of fabric buildings in the region consisting of steel trusses covered in a tensioned membrane cover. Gills was attracted to fabric structures for several reasons.
"With the teepee structure, Lake County paid extra to have salt blown into the teepee. A large fabric structure not only costs less per square foot allowing for a much larger storage capacity on a budget, but would allow us to safely back in a truck, dump, and stack the salt."
Gills analyzed fabric building designs and layout to determine which would work best given his poor soil conditions.
"Greystone Construction had a solution for our poor soils. Greystone's method of installing the structure on independent concrete pads and piers provided an engineered solution which minimized the amount of expensive soil corrections required."
Gills purchased the Britespan fabric building materials from Greystone Construction and Britespan Building Systems through Sourcewell, a cooperative service purchasing program used by government entities across the country.
"Time is money and we saved a lot of both using the Sourcewell process and avoided the lengthy public bidding process that could have added six
weeks to our timeline."
The Greystone Construction crew completed the concrete piers in three days. After a concrete cure period, the Greystone crew returned and installed a 73-foot-by-120-foot facility on top of the piers in just five days.
Eight-foot high panels were placed continuously along three sides of the building interior to contain the salt.
"Our new fabric building facility holds 4,000 tons of salt. Combine that with the storage available at other facilities in Lake County and we have enough salt stored to last an entire winter."
"The Greystone team was great and so quick that I would absolutely work with Greystone again and have recommended them to others."
Best practices for designing and building safe, efficient and long lasting salt and sand storage buildings 
Greystone has built thousands of fabric buildings across the U.S. and is an industry expert having built more than 1.5 million square feet of salt storage. Greystone Vice President Colin O'Brien shares best practices to ensure a successful project.
Building design to meet local load requirements
Any building needs to be designed to meet local wind, snow, seismic and unbalanced snow loads. Fabric buildings are no different. A structurally sound building must follow current International Building Codes (IBC) for safety and insurability.
"Greystone engineers its buildings to meet current local IBC load requirements. However, whatever manufacturer or general contractor you work with, make sure they are engineering your building properly for your site specific location."
Capacity Requirements
Greystone knows the density and angle of repose of deicing salt — factoring this in with a customer's storage capacity requirements and available footprint, their estimating team calculates the most economical building width and length.
"Fabric buildings can easily be expanded so in the future, when a customer requires greater storage capacity, Greystone can easily add additional building length."
Independent Foundations and Panels
"The Lake County building uses this design combining independent foundations engineered to carry building loads and pre-cast walls designed to carry commodity loads. This is often times more economical than cast-in-place poured walls designed to carry both building and commodity loads."
"This building design is also excellent to reduce corrosion because it keeps salt away from the steel trusses and base plates. It also creates the greatest possible air movement throughout the building."
Reducing Risk of Corrosive Damage
Salt is a highly corrosive material and storing it properly is critical to maintain the integrity of a fabric building's steel frames and components. "We recommend any time building steel is cut or welded it be hot-dip galvanized after production. This treatment achieves a much thicker and harder protective surface than in-line galvanizing. It also ensures that the steel trusses are coated both inside and outside after welding is completed. We also recommend a corrosion inhibitor in any concrete containment panels."
Ventilation
Proper ventilation is key in reducing corrosion. "In the absence of moisture, corrosive materials would have little to no corrosive effect. You want air movement in your salt storage building to greatly reduce any condensation — this helps to prevent corrosion on everything in and around the building."
Sufficient Clearance
Adequate clear height is a critical factor to ensure maximum storage capacity. More importantly, sufficient clearance is necessary for safe maneuverability of trucks and dumping equipment. "Proper building clearance is important to reduce the possibility of costly damages to the building from equipment use."
Greystone Construction's team of fabric building experts is prepared to assist municipalities with their salt, sand and equipment storage needs. Call 1-888-742-6837 for a free consultation and quote. Visit www.GreystoneConstruction.com to learn more.
---
More about Greystone Construction
Greystone Construction is a general contractor based in Shakopee, Minnesota, with a regional office in Bismarck, North Dakota. Established in 1987, Greystone was built on a tradition of craftsmanship and quality service with a strong commitment to employee safety and community giving. Greystone serves the commercial, industrial, agribusiness, and senior housing industries throughout the Midwest and beyond.
---
Salt Storage Building Picture Gallery