Greystone Construction holds ribbon cutting for new headquarters
September 22, 2021
Greystone and the Shakopee Chamber hosted a ceremonial ribbon cutting to celebrate the completion and opening of Greystone's new headquarters situated on a 13-acre development near Canterbury Park. Greystone's office building is the first commercial development of the site. The multi-tenant building designed by Tushie Montgomery Architects features a two-story glass atrium, floating staircase, modern stone and metal exterior, 30KW solar panel system, wood-wrapped clerestory, rooftop deck with views of the Canterbury race track, a lush garden with water features, and more. The design provides for incredible views, great exposure to the public, and sets a very high standard of quality for the entire development.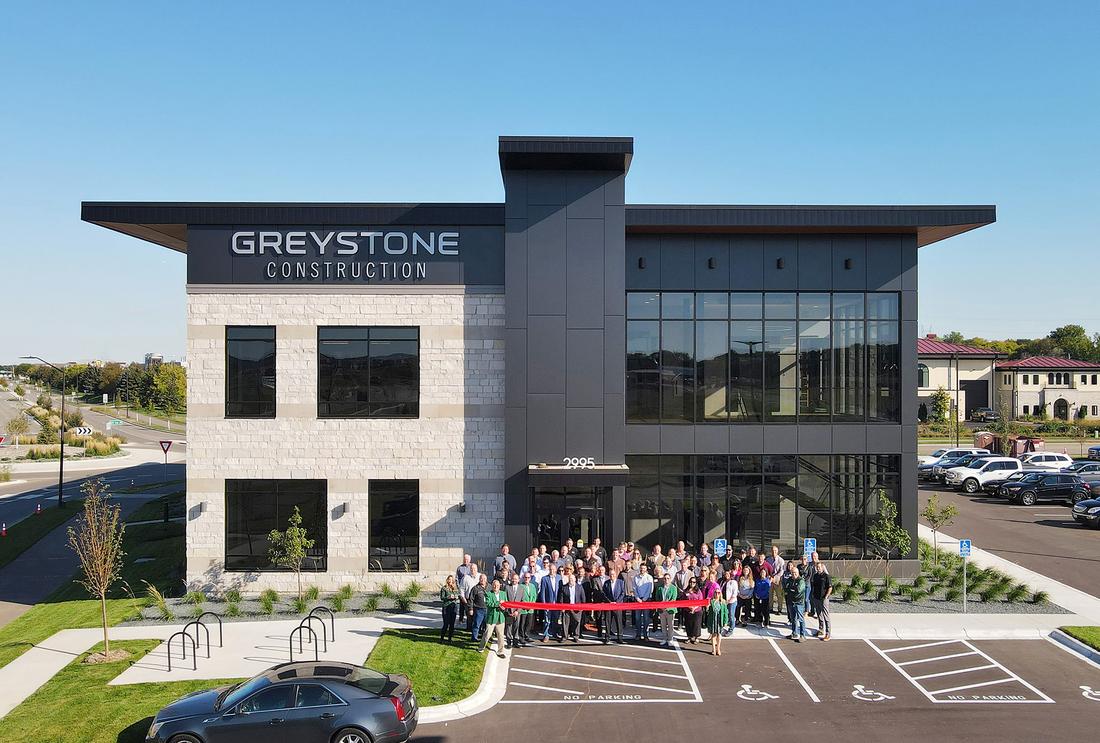 Shakopee Chamber of Commerce President Tim Zunker commented, "It is exciting to watch the new development here near Canterbury Park and be present today with the local business community, the City of Shakopee, Scott County, and the Greystone Construction team as we celebrate the opening of their new headquarters.
Since it was founded in 1987, Greystone has called Shakopee home and over the past 34 years has helped build the Shakopee community from retail buildings to multifamily housing, energy-producing facilities, office buildings, recycling and warehousing, municipal projects, and more. Congratulations to the entire Greystone team for your hard work and dedication to our community!
I want to introduce Kevin O'Brien, the founder and CEO of Greystone Construction. His guidance and focus on high-quality craftsmanship, safety, integrity, and relationships has grown Greystone from a start-up focusing on the construction of airplane hangars and waste treatment facilities to a well-established and versatile general contractor serving commercial, industrial, and agribusiness clients in 31 states and counting."
Greystone CEO Kevin O'Brien added, "This ribbon cutting marks a significant milestone in Greystone's history and emphasizes our commitment to the growth and development of Shakopee, Minnesota, and beyond. As Tim mentioned, Greystone has been proud to call Shakopee home since 1987.
From 4th avenue, to Marschall Road, and now Winners Circle Drive, growth has dictated the need for this new space. The decision to stay here in Shakopee was an easy one. The amenities that Shakopee and the Canterbury development provides will help us attract and retain the top talent in the industry.
As you enter this beautiful building designed by Tushie Montgomery Architects, you will see design elements that reflect Greystone's core values, diverse construction niches, past accomplishments, search for new opportunities, and the creativity of the Greystone team.
This building design provides and promotes a healthy work environment, efficiency, team collaboration, work/life balance, creative thinking, growth, and fearless adaptation to change.
The design also reflects our concern for the health of our environment. Solar panels, future car charging stations and bike racks are some of the environmentally friendly features.
I would like to thank the Shakopee Chamber of Commerce and the City of Shakopee for the support we have received for almost 35 years.
I would like to thank Canterbury Park, Randy Sampson and Jason Haugen for the opportunity to partner with them to not only build our new corporate headquarters but to develop this entire 13-acre site. There are more exciting projects coming.
I would like to thank the Greystone team. The building is an extension of their dedication and professionalism.
The Greystone Construction office building at 2995 Winners Circle Drive will be part of the founder's legacy and will also provide a platform for current and future leaders to use to elevate and expand Greystone's capabilities and brand."
More about Greystone Construction
Established in 1987, Greystone Construction is a versatile general contractor serving the commercial, industrial, multifamily, senior housing, and agribusiness industries across the United States. Together, our team has established a reputation for safety, integrity, and construction excellence. Greystone's headquarters are located in Shakopee, Minnesota, with offices in Bismarck, North Dakota, and Spirit, Lake, Iowa.