Greystone Construction Named Accredited Quality Contractor
November 21, 2019
Greystone Construction of Shakopee, Minn., today announced that it is one of only four general contractors in the states of Minnesota and North Dakota that is an Accredited Quality Contractor (AQC), a reputable status awarded by the Associated Builders and Contractors.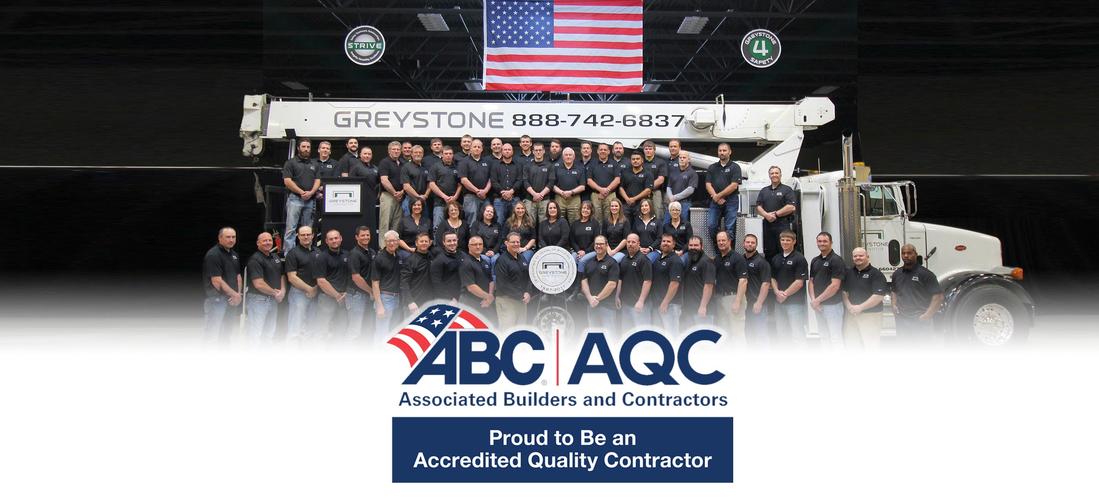 "Greystone has been pursuing excellence for over 32 years. The AQC application process is just one metric we use to measure our progress. Excellence requires improvement and innovation in every aspect of our business with safety and quality as our top priorities. We are proud of where we are today but will never cease in our effort to grow and improve."
Launched in 1993, ABC's AQC program provides recognition to world-class construction firms that have documented their commitment in five areas of corporate responsibility:
Quality
Safety (ABC STEP Gold, Platinum or Diamond level required)
Talent management
Craft and management education
Community relations and diversity
"Associated Builders and Contractors is pleased to recognize Greystone Construction as an Accredited Quality Contractor for its dedication to corporate responsibility and contributions to the communities in which they work," said 2019 ABC National Chair Tony Rader, vice president of telecom at National Roofing Partners. "Greystone Construction's commitment to world-class safety performance, workforce development, diversity leadership and community service excellence makes them a clear leader in the merit shop construction industry."
In achieving AQC status, each member company takes the following pledge:
As an Accredited Quality Contractor, our company is committed to providing our clients with the highest quality construction services and we care deeply about our employees and the communities in which we build. We are proud to be part of the construction industry and are dedicated to the principle of free enterprise. We commit ourselves to serve our communities and to provide our employees with the skills they need to work safely and productively in order to meet the needs of our clients.
AQC is recognized by Construction Users Roundtable, an organization founded by leading construction project owners.
###
More about Greystone Construction
Greystone Construction is a general contractor based in Shakopee, Minnesota, with a regional office in Bismarck, North Dakota. Established in 1987, Greystone was built on a tradition of craftsmanship and quality service with a strong commitment to employee safety and community giving. Greystone serves the commercial, industrial, agribusiness, and senior housing industries throughout the Midwest and beyond.
Consistently delivering quality has provided Greystone the opportunity to partner with some of the best companies in the markets we serve. The list of projects in 2019 is impressive:
Commercial
Southbridge Crossings McCoy's Copper Pint, Shakopee, Minnesota
Rahr Corporate Office Expansion, Shakopee, Minnesota
Prime Therapeutics Office Renovation, Omaha, Nebraska
Interstate Storage, Lakeville, Minnesota
Industrial
Dem-Con Transfer Station, Blaine, Minnesota
Cargill Protein, Big Lake, Minnesota
US Internet Data Center, Minneapolis, Minnesota
MnDOT Bulk Salt Storage Buildings, Multiple Locations, Minnesota
US Silica Frac Sand Storage, Lamesa, Texas
Gregory Foods, Eagan, Minn.
Agribusiness
Nutrien Agronomy Center, Dixon, Illinois
Crystal Valley Cooperative Flat Grain Storage, Hope, Minnesota
Belmont Mills Fertilizer Storage, Belmont, Ohio
Landmark Cooperative Fertilizer Storage, Evansville, Wisconsin
Senior Housing
Oppidan, Pillars of Mankato, Mankato, Minnesota
Globus One Commercial, Global Pointe Senior Community, Golden Valley, Minnesota
Scott County CDA, Brentwood Terrace, Jordan, Minnesota