Gaughan and Greystone break ground on Shakopee Flats market-rate, mixed use apartment development
December 17, 2020
Construction is underway in the Riverfront Bluff Redevelopment District on the west side of downtown Shakopee. The Shakopee Flats mixed use development will revitalize the downtown area with 170 market-rate apartments, retail space, and a restaurant overlooking the Minnesota River.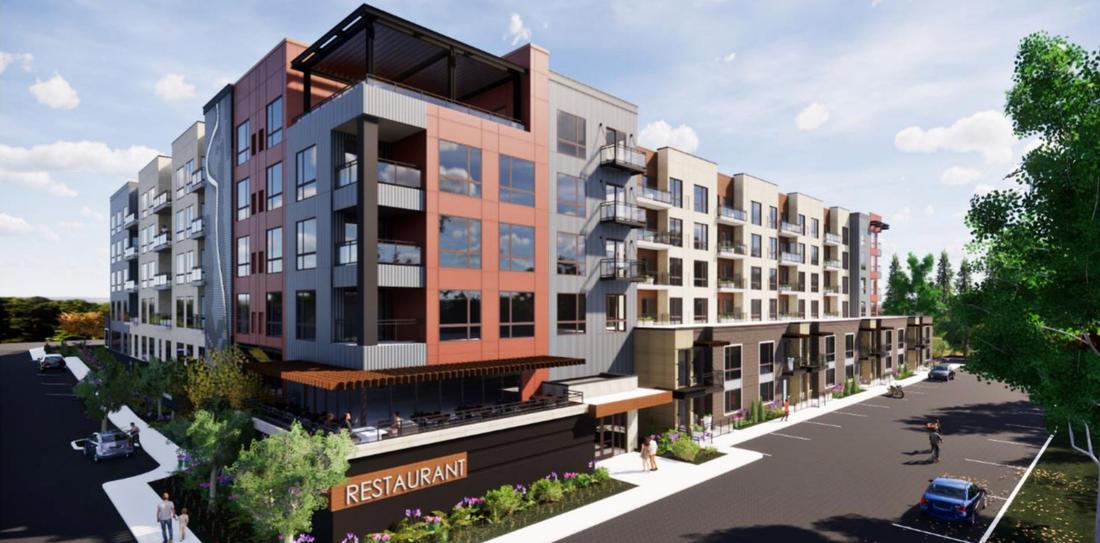 The developer on the Shakopee Flats project is Gaughan Companies and the design team includes Momentum Design Group and Harris Architecture. The general contractor on the project is Greystone Construction.
"The redevelopment of our riverfront is great for our community and our surrounding area. It is important in our efforts to enhance and invigorate Shakopee," said Shakopee Mayor Bill Mars. "I can't say enough about all the collaborative partners that played an important role in this redevelopment. Redevelopment is much more difficult than streamlined development and we are grateful to the developer, Gaughan, who stayed the course when we put out the offer to redevelop our riverfront. We are pleased that a local Shakopee contractor, Greystone Construction, gets to construct this building."
Gaughan Companies President Patrick Gaughan said, "The work that goes into re-development is really impressive. I commend the Shakopee EDA and City Council on their work and thank them for giving us the opportunity to do this. We look forward to a beautiful building."
Greystone President Gordie Schmitz said, "Being a Shakopee-based contractor for the past 33 years, it means a lot to be part of a great revitalization project in our hometown. Thank you to Gaughan for giving us the opportunity to work on this project and to the City of Shakopee for helping us through the permitting process to get to this point with shovels in the ground. This has been an awesome effort by everyone."
The Shakopee Flats apartment building is expected to open in the spring of 2022 and will have studio, one-bed, and two-bed apartment rentals available.
For further details on this exciting addition to Shakopee, contact Dan Hebert at  danhebert@gaughancompanies.com or phone 651-255-5558.
Groundbreaking Photos
Renderings
More about Greystone Construction
Established in 1987, Greystone Construction is a versatile general contractor serving the commercial, industrial, multifamily, senior housing, and agribusiness industries across the United States. Together, our team has established a reputation for safety, integrity, and construction excellence. Greystone's headquarters are located in Shakopee, Minnesota, with a second office in Bismarck, North Dakota.