Five case studies in effective salt storage facilities
January 5, 2023
Five public works departments share their insight into working with fabric building expert Greystone Construction in the design and construction of safe, efficient and cost-effective salt storage facilities.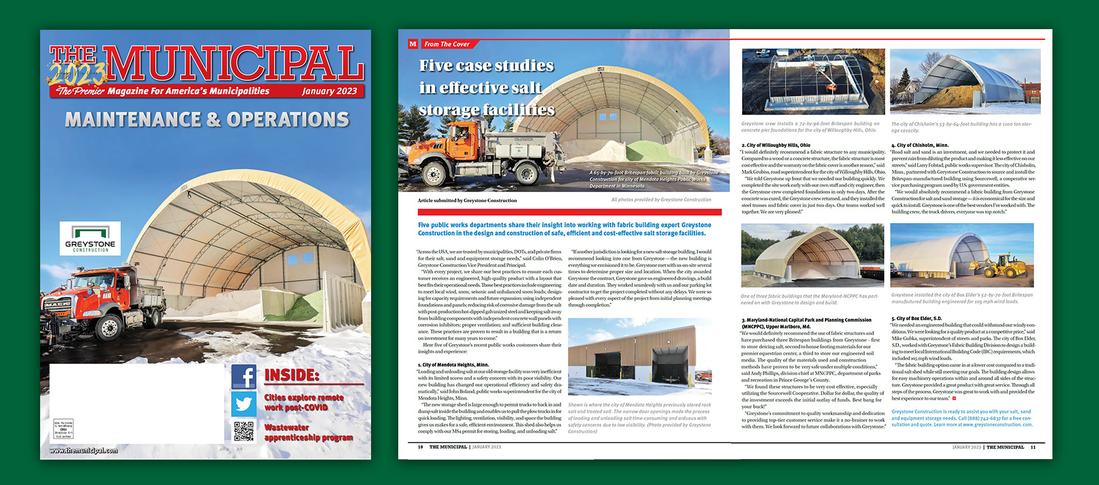 From the January 2023 issue of The Municipal Magazine:
"Across the USA, we are trusted by municipalities, DOTs, and private firms for their salt, sand and equipment storage needs," said Colin O'Brien, Greystone Construction Vice President and Principal. 
"With every project, we share our best practices to ensure each customer receives an engineered, high-quality product with a layout that best fits their operational needs. Those best practices include engineering to meet local wind, snow, seismic and unbalanced snow loads; designing for capacity requirements and future expansion; using independent foundations and panels; reducing risk of corrosive damage from the salt with post-production hot-dipped galvanized steel and keeping salt away from building components with independent concrete wall panels with corrosion inhibitors; proper ventilation; and sufficient building clearance. These practices are proven to result in a building that is a return on investment for many years to come."
Here five of Greystone's recent public works customers share their insights and experience:
1. City of Mendota Heights, Minn.
"Loading and unloading salt at our old storage facility was very inefficient with its limited access and a safety concern with its poor visibility. Our new building has changed our operational efficiency and safety dramatically," said John Boland, public works superintendent for the city of Mendota Heights, Minn.
"The new storage shed is large enough to permit trucks to back in and dump salt inside the building and enables us to pull the plow trucks in for quick loading. The lighting, ventilation, visibility, and space the building gives us makes for a safe, efficient environment. This shed also helps us comply with our MS4 permit for storing, loading, and unloading salt."
"If another jurisdiction is looking for a new salt storage building, I would recommend looking into one from Greystone — the new building is everything we envisioned it to be. Greystone met with us on-site several times to determine proper size and location. When the city awarded Greystone the contract, Greystone gave us engineered drawings, a build date and duration. They worked seamlessly with us and our parking lot contractor to get the project completed without any delays. We were so pleased with every aspect of the project from initial planning meetings through completion."
Shown is where the city of Mendota Heights previously stored rock salt and treated salt. The narrow door openings made the process of loading and unloading salt time-consuming and arduous with safety concerns due to low visibility.
A 65-by-70-foot Britespan fabric building built by Greystone Construction for city of Mendota Heights Public Works Department in Minnesota.
2. City of Willoughby Hills, Ohio
"I would definitely recommend a fabric structure to any municipality. Compared to a wood or a concrete structure, the fabric structure is most cost effective and the warranty on the fabric cover is another reason," said Mark Grubiss, road superintendent for the city of Willoughby Hills, Ohio.
"We told Greystone up front that we needed our building quickly. We completed the site work early with our own staff and city engineer, then the Greystone crew completed foundations in only two days. After the concrete was cured, the Greystone crew returned, and they installed the steel trusses and fabric cover in just two days. Our teams worked well together. We are very pleased."
Greystone crew installs a 72-by-96-foot Britespan building on concrete pier foundations for the city of Willoughby Hills, Ohio.
3. Maryland-National Capital Park and Planning Commission (MNCPPC), Upper Marlboro, Md.
"We would definitely recommend the use of fabric structures and have purchased three Britespan buildings from Greystone - first to store deicing salt, second to house footing materials for our premier equestrian center, a third to store our engineered soil media. The quality of the materials used and construction methods have proven to be very safe under multiple conditions," said Andy Phillips, division chief at MNCPPC, department of parks and recreation in Prince George's County.
"We found these structures to be very cost effective, especially utilizing the Sourcewell Cooperative. Dollar for dollar, the quality of the investment exceeds the initial outlay of funds. Best bang for your buck!"
"Greystone's commitment to quality workmanship and dedication to providing top-tier customer service make it a no-brainer to work with them. We look forward to future collaborations with Greystone."
One of three fabric buildings that the Maryland-NCPPC has partnered on with Greystone to design and build.
4. City of Chisholm, Minn.
"Road salt and sand is an investment, and we needed to protect it and prevent rain from diluting the product and making it less effective on our streets," said Larry Folstad, public works supervisor. The city of Chisholm, Minn., partnered with Greystone Construction to source and install the Britespan-manufactured building using Sourcewell, a cooperative service purchasing program used by U.S. government entities.
"We would absolutely recommend a fabric building from Greystone Construction for salt and sand storage — it is economical for the size and quick to install. Greystone is one of the best vendors I've worked with. The building crew, the truck drivers, everyone was top notch."
The city of Chisholm's 53-by-64-foot building has a 1100 ton storage capacity.
5. City of Box Elder, S.D.
"We needed an engineered building that could withstand our windy conditions. We were looking for a quality product at a competitive price," said Mike Gubka, superintendent of streets and parks. The city of Box Elder, S.D., worked with Greystone's Fabric Building Division to design a building to meet local International Building Code (IBC) requirements, which included 105 mph wind loads.
"The fabric building option came in at a lower cost compared to a traditional salt shed while still meeting our goals. The building design allows for easy machinery operations within and around all sides of the structure. Greystone provided a great product with great service. Through all steps of the process, Greystone was great to work with and provided the best experience to our team."
Greystone Construction's team of fabric building experts is prepared to assist municipalities with their salt, sand and equipment storage needs. Call 1-888-742-6837 for a free consultation and quote. Visit www.GreystoneConstruction.com to learn more.
---
More about Greystone Construction
Greystone Construction is a general contractor based in Shakopee, Minnesota, with offices in Bismarck, North Dakota; Round Rock, Texas; and Spirit Lake, Iowa. Established in 1987, Greystone was built on a tradition of craftsmanship and quality service with a strong commitment to employee safety and community giving. Greystone serves the commercial, industrial, agribusiness, and senior housing industries throughout the Midwest and beyond.
---