New Market Bank Groundbreaking
October 5, 2017
News release written by Amy Nugent
ELKO NEW MARKET, Minn., Oct. 5, 2017 – Officials from Shakopee-based Greystone Construction, New Market Bank and the City of Elko New Market broke ground today on a new multi-tenant commercial building located at the northwest quadrant of Scott County Road 2 and Dakota Avenue in Elko New Market. The project will be constructed in two phases and will total approximately 21,000 square feet when completed.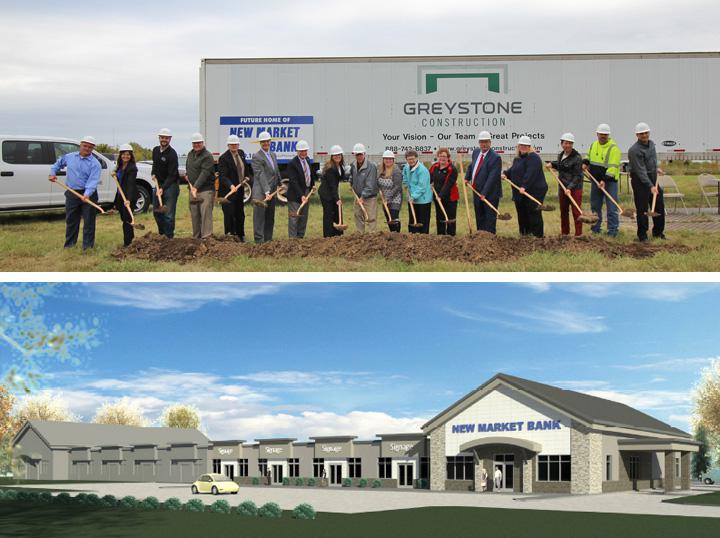 The first phase of 9,600 square feet will house a New Market Bank branch and drive-through, a Chinese restaurant and three additional tenants yet to be finalized. When completed in the spring of 2018, the new bank branch will take the place of the branch in downtown New Market that's been in use since 1913.
"We're really excited to anchor the first commercial development built in our hometown in many years," said Anita Vogel-Drentlaw, CPA, president of New Market Bank. "We have served generations of customers in Elko New Market for more than 100 years, and this new branch and drive-through give us an updated presence to serve the community for many years to come."
Businesses interested in lease information can contact the City of Elko New Market or Kevin O'Brien of Greystone Construction at kobrien@greystoneconstruction.com or 952.496.2227.
About New Market Bank
Founded in 1905 as the First State Bank of New Market, New Market Bank is an independent, fourth-generation, family-owned bank serving the southern Twin Cities area with offices in Lakeville, Prior Lake and Elko New Market. For over 100 years, New Market Bank has built trusted relationships with its customers through individualized care and attention, comprehensive banking services and a commitment to bettering the quality of life in the communities it serves. For more information, visit www.NewMarketBank.com.
###
Greystone Construction  is a general contractor based in Shakopee, Minnesota, with a regional office in Bismarck, North Dakota. Established in 1987, Greystone was built on a tradition of craftsmanship and quality service with a strong commitment to employee safety and community giving. Greystone provides a wide range of services throughout the Midwest and beyond such as design-build, turnkey general construction, and construction management to the commercial, industrial and agribusiness industries.