Greystone Earns Two 2019 ABC Awards
January 23, 2020
Our Rahr Corporate Office Expansion and Interstate Storage projects were honored by the Associated Builders and Contractors of Minnesota and North Dakota.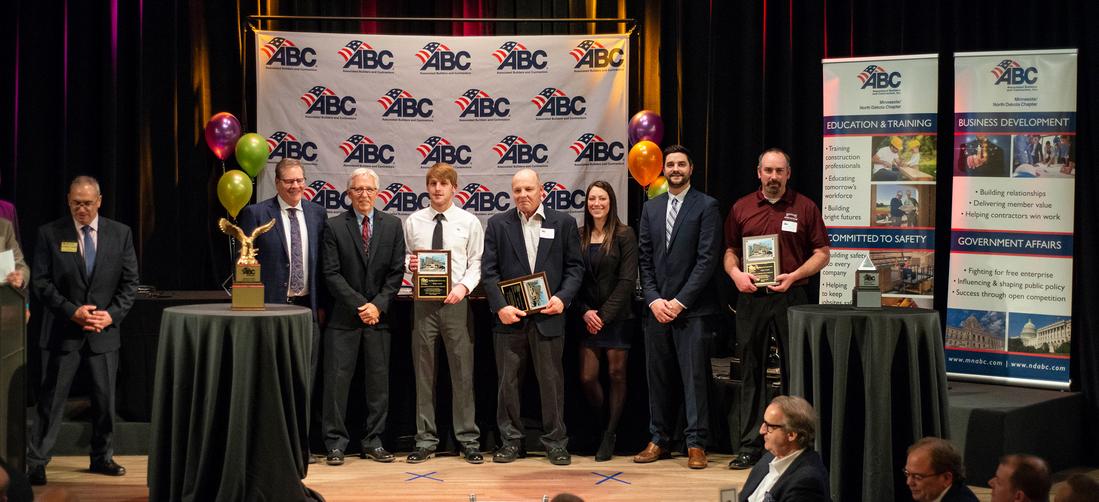 Greystone is proud to announce two of its projects won awards through the Excellence in Construction program organized by the Associated Builders and Contractors (ABC) of Minnesota and North Dakota. The competition is judged by a panel of construction industry experts including owners, architects, and engineers.
Eagle Award for Rahr Corporate Office Expansion
The Rahr Corporate Office Expansion in Shakopee, Minnesota, earned an Eagle Award which is the highest award given by ABC.
The Rahr Corporate Office Expansion project in Shakopee, Minnesota, is a two-story building with Class A finishes designed by KOMA. The updated space functions well and is reflective of the company's deep-rooted values and history. The project involved demolition and reconstruction of 8,000 square feet, renovations of 5,800 square feet that had been built in five phases since 1935, and 13,000 square feet of new construction.
The Rahr Corporate Office Expansion project presented a number of challenges including constrained site, active railways flanking the north and south sides of the site, truck traffic, shallow bedrock elevation, major utilities running through the construction site, shared employee/ construction site entrance, required asbestos abatement, salvaging old brick for reuse, and more.
The project was completed three months ahead of the original schedule and with zero safety incidents.
Rahr Corporation has partnered with Greystone Construction for 30+ years at its malt production plant and corporate offices in Shakopee, Minn. When we asked Rahr's COO, Jesse Theis, why he continues to choose Greystone, he replied: "Greystone is accountable, reliable, and delivers quality. Our people at Rahr work better with people they respect and trust – that's why we continue to hire Greystone and recommend them as a general contractor."
Pyramid Award for Interstate Storage
The Interstate Self Storage project in Lakeville, Minnesota, earned a Pyramid which is the second highest award given by ABC.
Interstate Storage is a 4-story, high-profile building on Interstate 35 in Lakeville. The beautiful self-storage facility designed by Tushie Montgomery Architects offers a climate-controlled environment, 24/7 video surveillance, drive-in accessibility, elevator, and units in a variety of sizes from 5'x5' up to 10'x25'.
Greystone anticipated a difficult winter and altered the project's construction sequence such as installing the precast before steel erection and a mechanically fastened roof – Greystone's strategies ensured the project was completed safely and on time despite an extra cold, snowy winter and wet spring.
The client was more than satisfied with the success of the project and Greystone's approach to finding innovative solutions to minimize delays caused by weather and nearby construction. Guardian Companies Vice President Dan Haugen wrote:  "We have dealt with many contractors who take the easy way or the shortcut first. Greystone always chose the correct solution, whether it was easy or not."