Greystone honors team members with 2017 STRIVE Awards
January 29, 2018
SHAKOPEE, Minn., January 29, 2018 -- Greystone Construction recently recognized eight employees for outstanding performance and demonstration of the company's core values known as STRIVE (Safety, Teamwork, Relationships, Integrity, Versatility, and Excellence).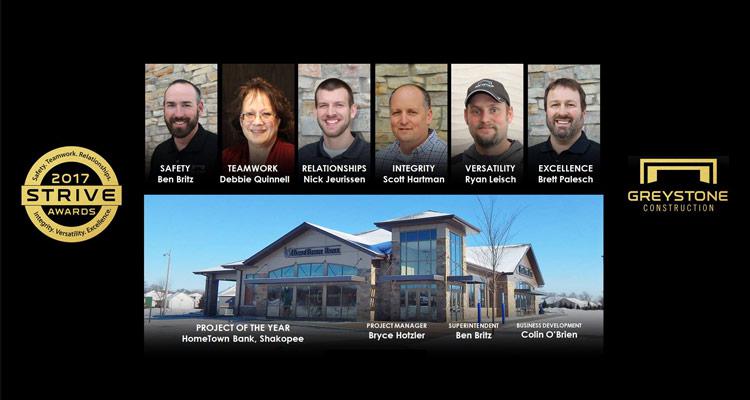 Superintendent Ben Britz was awarded the Safety Award for his commitment to zero incidents and safe construction sites.
Office Assistant Extraordinaire Debbie Quinnell was awarded the Teamwork Award for his commitment to collaboration and personal accountability with the goal of achieving greater results.
Project Manager Nick Jeurissen was awarded the Relationships Award for building trust and loyalty with both customers and colleagues through communication and collaboration.
Project Manager Scott Hartman was awarded the Integrity Award for treating all people with respect and honesty while operating at the highest ethical standards.
Superintendent Ryan Leisch was awarded the Versatility Award for maintaining a "can do" attitude and willingness to learn when faced with challenging situations.
Superintendent Brett Palesch was awarded the Excellence Award for exceeding customer expectations with high quality craftsmanship and service.
Greystone also recognized the HomeTown Bank & Multi-Tenant Office Building as the 2017 Project of the Year. Project Manager Bryce Hotzler and Superintendent Ben Britz were recognized for their work.
About Greystone Construction:  Greystone Construction is a general contractor based in Shakopee, Minnesota with a regional office in Bismarck, North Dakota. Established in 1987, Greystone was built on a tradition of craftsmanship and quality service with a strong commitment to employee safety and community giving. Greystone serves the commercial, industrial and agribusiness industries throughout the Midwest.